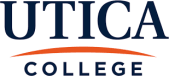 Lees de Officiële Beschrijving
Lees meer op de website van de school
Utica College, opgericht in 1946, is een veelomvattende particuliere instelling gevestigd in het noorden van New York, ongeveer 90 mijl ten westen van Albany en 50 mijl ten oosten van Syracuse, en heeft momenteel meer dan 5.000 studenten ingeschreven in 38 niet-gegradueerde majors, 31 minors, 21 graduate programma's en een aantal pre-professionele en speciale programma's.
Het College biedt regionaal geaccrediteerde online certificaten, bachelors, masters en doctoraten in de gezondheidszorg, cyberveiligheid, financiële criminaliteit, verpleging, fysiotherapie, handel, strafrecht en gegevenswetenschap. Alle cursussen worden gegeven door een geaccrediteerde, zeer ervaren faculteit met belangrijke en voortdurende prestaties op hun respectieve gebieden.
Utica College is regionaal geaccrediteerd door de Middle States Association of Colleges and Schools.

Beschikbare online programma's

Afronding van bacheloropleidingen
BS in Cybersecurity met specialisaties in Cyber ​​Operations, Cybercrime
BS in Fraud
BS in Nursing (RN to BSN)
BS in Criminal Justice met specialisaties in Public Policy

Master-opleidingen
MBA met specialisaties in Finance / Accounting, Health Care Management, Cybersecurity, Cyber ​​Policy, Insurance and Risk Management, Entrepreneurship, Data Analytics, samen met een optie voor algemeen beheer.
MBA in economische criminaliteit en fraude management
MPS in Cyber ​​Policy
MS in Cybersecurity met specialisaties in Computer Forensics, Cyber ​​Operations, Electronic Crime, Cyber ​​Intelligence en Malware Analysis
MS in Data Science met specialisaties in Business Analytics, Cybersecurity, Financial Crime, Social Science Analytics en een algemene optie
MS in financiële criminaliteit
MHA in de gezondheidszorg

Doctoraatsprogramma's
Transitional Doctor of Physical Therapy (tDPT)

Undergraduate-certificaten
Onderzoekscertificaat financiële criminaliteit
Cybersecurity Technologies-certificaat
Cyber ​​Crime and Fraud Investigation Certificate
Cyber ​​Network Defence-certificaat
Locaties
Utica
Address
1600 Burrstone Road
13502-4892
Utica
,
New York
,
Verenigde Staten